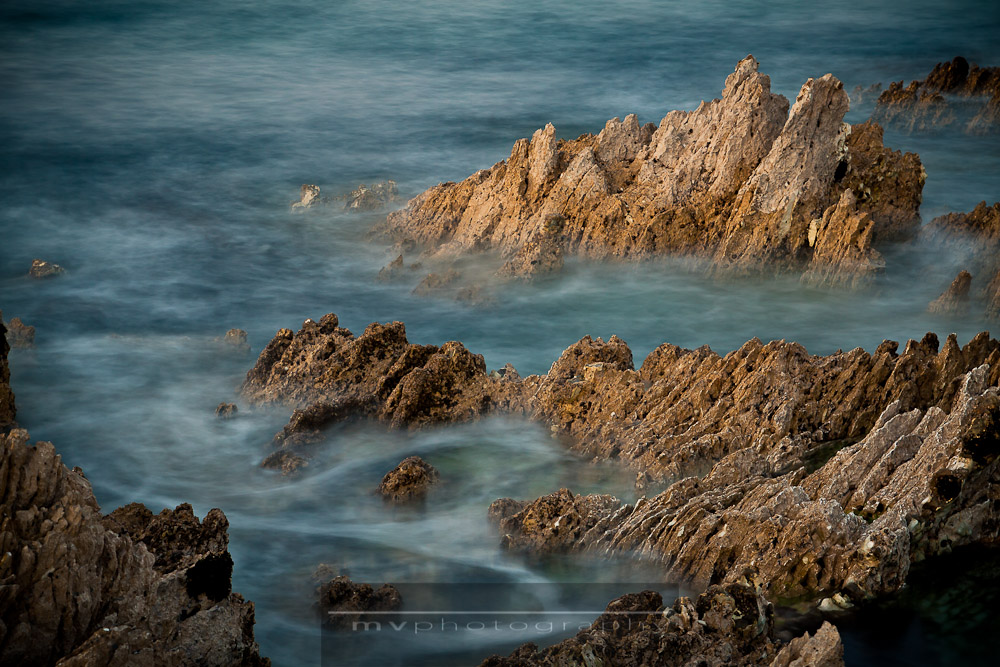 This is one of my favorite images from the first leg of our trip around New Zealand. After scouting the area for a spot for some sunset photos I settled on this amazing rocky outcrop on the Kaikoura Peninsula that looks up to some snow covered mountains right by the coast. The light wasn't that spectacular on the mountains so I turned to the rocks by my feet. The area had some intriguing shapes and textures defined by the warm evening light.
To get the smooth and silky look of the water I set up my camera on my tripod with its legs splayed over the jagered rocks and set up my composition. In order to get the slowest shutter speed possible, I used a neutral density filter to absorb some light and combined with an aperture of f10 to get some good depth of field and it resulted in a shutter speed of 6seconds. To make sure I got the maximum sharpness on the rocks in the photo I used a cable release and the mirror lock up function in the camera to make sure the camera didn't vibrate one bit. I was happy with the results on the LCD screen so I shot little else and headed back to the car to put the heater on full blast!
Post processing back home was pretty simple; just the usual natural enhancements and sharpening just in Adobe Lightroom (no Photoshop).
I encourage some feedback in the comments, and if I get enough interest I'll be releasing it as a very limited edition print.
Related Posts: